Can a company like Stagbird make productions for a ministry? We can, and we also think
we were able to push the envelope a little bit
for how to create video with animated graphics.
Using the three basic shapes of triangle, circle and square, we created a series of simple models with a focus on movement. A Nordic and modern look that appeals to the young high school student group.
Style sheet with colors, fonts and illustrations
An animated graphic can be created in as many ways as there are animators. That's why we make sure the customer knows what's going on.
Because once the customer has said yes to an animated graphic, they need to feel confident in the process towards the goal. That's why we go to great lengths to create a style sheet that includes colors, mood, fonts, illustrations and overall look.
This allows us to check the animation with the customer before we start the time-consuming production. This way, we avoid unnecessary misunderstandings that drag out the project.
Customer
Ministry of Education
We have delivered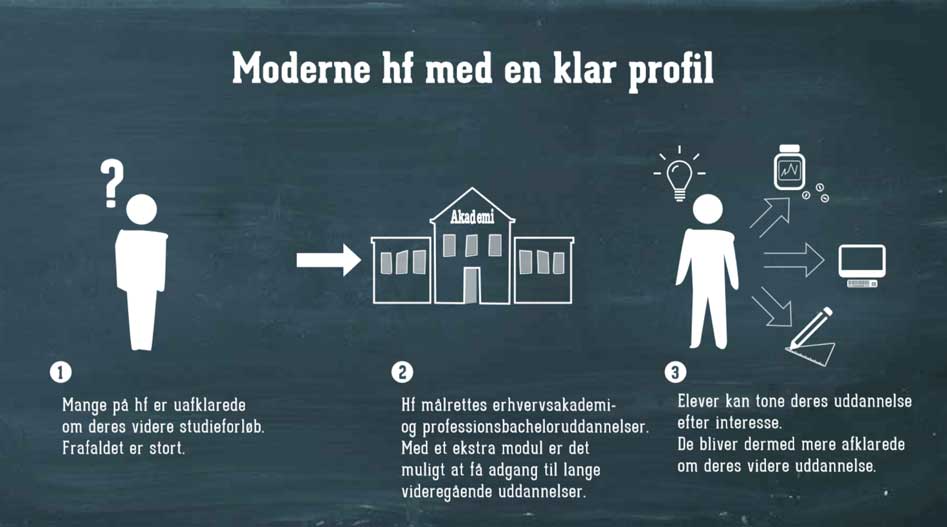 Professionalism must rise
In this 1.5 minute film, we mix live action footage with stunning graphic animation and talk about raising academic standards for both high school students and teachers.
Make the right choice
In one minute, we give a concise presentation on how to make the right choice of education as a future high school student.
Pitch
These 19 seconds show a graphic pitch of the visual expression we designed for the Ministry of Education.
Let us draw the lines for your next campaign
Examples of similar productions
SOSU education
In this recruitment explainer, we spend about a minute focusing on why the SOSU education is so good and important.
UCL Conference movie
This movie captures the vibrancy and dynamism of a conference at UCL. It's a great way to document and promote events.
Glamsbjerg HF VUC Fyn
Take a tour of Glamsbjerg HF and VUC Fyn in this explainer that serves as a branding and recruitment film.