Explainer film for the Danish Environmental Protection Agency
How do you communicate knowledge, facts and guidance in a vibrant way that engages your audience? One obvious way is to use animated explainer films. We have used this format in several information campaigns for the Danish Environmental Protection Agency.
Put your knowledge and message in pictures and sound
When you're a public agency, you have a huge amount of expertise in your field that needs to be communicated to citizens. But it can be difficult to communicate clearly and factually without risking a dry and static message. Especially on the web and social media, where you can quickly drown in the amount of content.
The Danish Environmental Protection Agency has therefore teamed up with Stagbird several times to animate its messages. Both in terms of telling about water plan data, good advice for handling environmentally hazardous substances in everyday life, our groundwater and the Red List, which is a list of animals, fungi and plant species that are in danger of extinction.
The benefit of animated explainers like these is that they add movement and life to the narrative. The good messages are explained in an easy-to-understand way and illustrated with figures and characters that clarify the intent. The combination of moving images and a clear, understandable voiceover is hugely effective. It's communication at eye level, and it engages the audience and holds their interest far better than brochures and other written materials.
Customer
Environmental Protection Agency
We have delivered
4 video productions
2 posters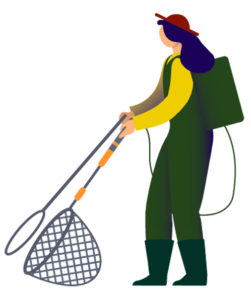 Video from the Danish Environmental Protection Agency's campaigns
Water plan data from the Danish Environmental Protection Agency
In this explainer, we show how you as a citizen can easily find and use information about water conditions around Denmark. The explainer acts as both information and a concrete guide.
How is groundwater formed in Denmark?
In this explainer, we use stop-motion to walk you through the journey of a single raindrop from the sky, down through the ground and into the groundwater.
3 tips on environmentally hazardous substances
This animated explainer puts sound and vision to a series of great tips on how we can help our water environment by handling hazardous substances correctly.
The Red List
This is a classic whiteboard animation where we draw our way through an explanation of what the Red List is and why it is important for nature in Denmark.
Production of printed matter
In connection with our production of videos for the Danish Environmental Protection Agency's campaign about the water environment in Denmark, we created a specific design and universe in which both films are set.
This not only streamlines the campaign with a common look and feel, but also has the advantage that the graphics can be extracted from the films and used on other platforms, media and materials.
We have made use of this by producing these two printed posters, which capture the essence of both films – River Basin Management Plans and Hazardous Substances – and tie a nice bow on the campaign by combining the digital with the analog.
Let us make the lines for your next campaign
Examples of similar productions
Nordic Cloud
This is a classic animated explainer that communicates Nordic Cloud's solutions using shapes and icons with motion and voice-over.
Lille Vildmose
Inspired by nature and children's TV, we've helped Lille Vildmose with this animated explainer on tips for dealing with wild moose in their reserve.
2D animation
The shared decision-making infographic is a great example of how you can convey a message in a visually engaging and explanatory way that reaches the target audience and illustrates the messages. This type of communication can often hit the mark and stick in the audience's memory more than written information materials.