Complete video experience to Gisselfeld Kloster
How do you bring 700 years of castle history to life? Stagbird has produced beautiful, interactive animation films for Gisselfeld Kloster and their visitors by crossing whiteboard animation, drone footage and the estate's physical setting.
A tour through history and the possibilities of the video format
Gisselfeld Kloster is one of Denmark's largest and most beautiful estates with beautiful surroundings and more than 700 years of history. Obviously, this deserves an extraordinary communication.
So Gisselfeld contacted Stagbird, and together we developed a total concept that would dust off the estate's long history and their fine old cellar in a way that places the audience right in the middle of both past and present.
The result was three video installations in the basement that take visitors through the spirit, history and natural beauty of the place:
A whiteboard animation that acts as a periodic review of Gisselfeld's history

A whiteboard animation that addresses a specific part of the site's history and allows the audience to be part of the narrative

A video that uses graphics and real footage to depict Gisselfeld's beautiful nature and surroundings
Video brings you into the history, spirit and nature of Gisselfeld
Each film lasts around 2 minutes, is narrated in both Danish and English, and finally projected from a projector onto the walls of three selected basement rooms, bringing a whole new area of the estate to the guests' enjoyment. The physical setting simply becomes the screen itself in the movies instead of using screens.
In this assignment, we chose to work with classic black and white drawings with coloring of selected elements to stay true to the old soul of the place. And this is where whiteboard and animation is the perfect choice, as it dusts off the dust of time and keeps the audience interested by adding sound, image and movement to the story.
Customer
Gisselfeld Monastery
We have delivered
Drone movie
Exhibition film
Explainer

Explainer about Gisselfeld history
700 years of Danish history cooked down to two minutes. Watch a classic whiteboard animation about a classic tale of war, kings, counts and castles.
Animation for exhibition
Enter the historical universe of Gisselfeld, where the audience can interact with the whiteboard animation.
Mix of genres and tools
Here you can see how we mix animation, drone footage and traditional footage to create a vibrant nature experience.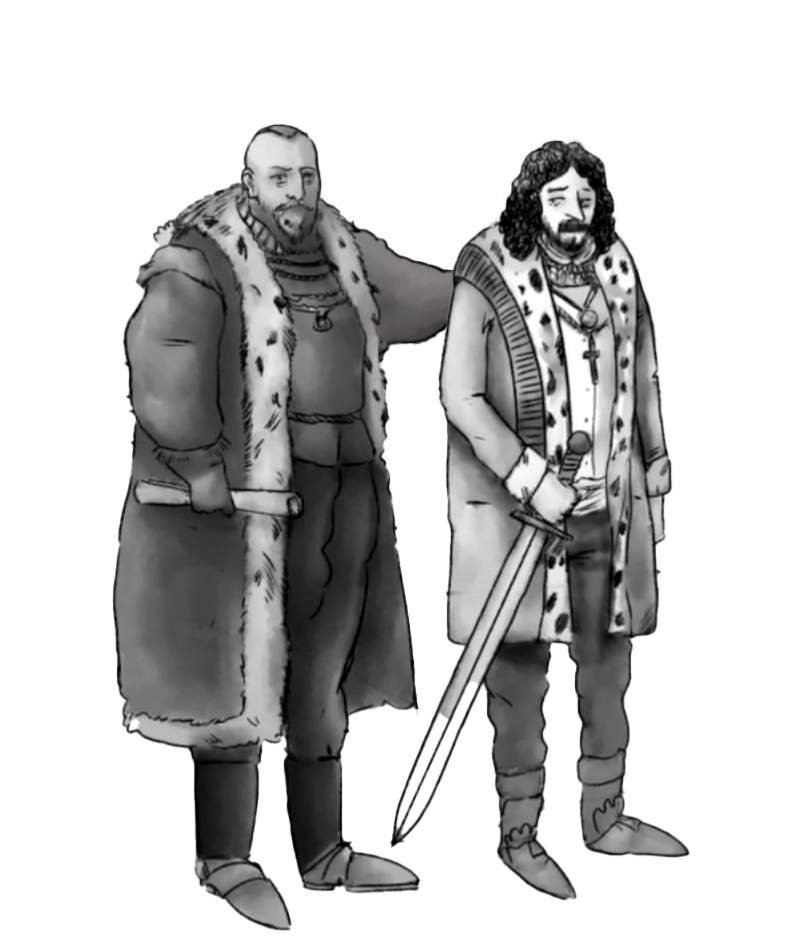 A creative and different museum experience
One of the three films places the audience right in the middle of Gisselfeld's historical wings with a story that unfolds around the guests and lets them interact with the action by putting their own heads on the characters. It creates a break in the overall audience experience at the venue and provides a breath of fresh air.
The goal of the entire project has thus been to create a different video and museum experience. Gisselfeld's guests should leave feeling both entertained and informed about the place.
This also applies to the third film, which deals with nature management around Gisselfeld Kloster and mixes graphics with beautiful drone footage and regular video footage of the beautiful surroundings.
The result is three varied and original video productions that take the communication of Gisselfeld to a new level. But of course in a way that is true to the estate's longstanding history and soul in a creative and original way that engages guests and gives them an experience.
Let us draw the lines for your next campaign
Examples of similar productions
Nordic Cloud
This is a classic animated explainer that communicates Nordic Cloud's solutions using shapes and icons with motion and voice-over.
Lille Vildmose
Inspired by nature and children's TV, we've helped Lille Vildmose with this animated explainer on tips for dealing with wild moose in their reserve.
2D animation
The shared decision-making infographic is a great example of how you can convey a message in a visually engaging and explanatory way that reaches the target audience and illustrates the messages. This type of communication can often hit the mark and stick in the audience's memory more than written information materials.