Video storytelling for education
Video production is a powerful way to communicate messages and tell stories. This is especially important for programs like SOSU Syddanmark, which wants to attract more bright minds and skilled hands. By using video in their narrative, they can tailor the message to their specific target audience and create a positive association with the program.
Professional video production
In collaboration with SOSU Syddanmark, we have produced a video about a student, Ditte, who is very happy with her choice of education and loves her job. It is a story about professionalism and the joy of being something for others, which is important to the people SOSU Syddanmark wants to speak to.
Video production is also good for SEO. By placing the video on the website and incorporating it into a longer description of the program, you can achieve a good SEO effect and make it easier for potential students to find and learn about the program.
It's always a pleasure to work with ambitious and professional customers who know how to get the most out of their collaboration. If you would like to benefit from our experience in website video production, please contact us.
Customer
SOSU Syddanmark
We have delivered
Portrait film for SOSU Syddanmark
Story about the joy of being something for others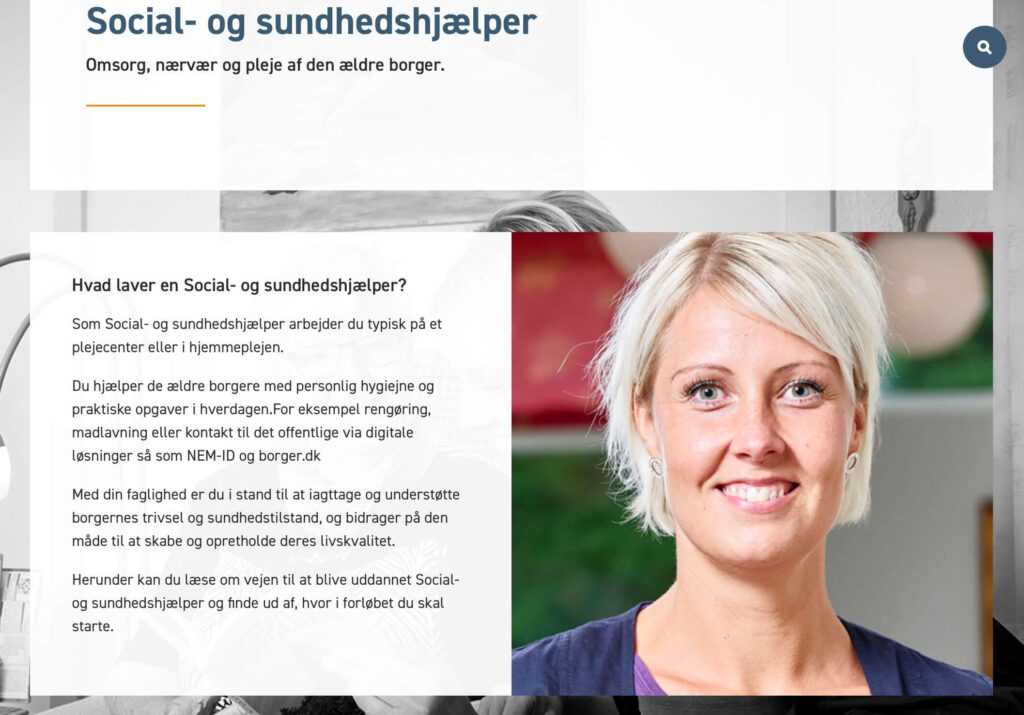 There are several factors that are important for creating a professional video production. Here are some of the most important ones:
A clear and concise message: It's important to have a clear and concise message that you want to convey through the video. This gives direction and focus to the production and ensures the video is relevant to the specific target audience.
A good story: A good story is essential to capture and hold the attention of your target audience. It's important to find a good balance between the message and the story so that the video is both entertaining and informative.
Professional actors or ambassadors: You don't necessarily need professional actors, but it's important to have a good ambassador who can convey the message and story in a credible and engaging way.
Good sound and image quality: It is important to have good sound and image quality to ensure a good experience for the target audience.
Let us help you with your video production
Examples of similar productions
Glamsbjerg HF VUC Fyn
Take a tour of Glamsbjerg HF and VUC Fyn in this explainer that serves as a branding and recruitment film.
Solar Caverion
This is an example of an explainer where we deliver a message in under 2 minutes using drone and regular video footage – with statements added for a personal touch.
Adept Water Technologies
We created a classic explainer for Adept Water Technologies, using vibrant cover images and voice-over to introduce the company in under half a minute.